About Us
I started my interet in the pure bred dog in 1971 with curly coated retrievers having unprecedented sucess at the time, winning a Best in show with my stunning boy Ch. Lezah Bruno (Buck)
Buck was a real showman, with the perfect attitude of "LOOK AT ME"
Then later my husband my daughter and myself travelled to Sydney and took out Best in Group at the prestigious Spring Fair . Also travelling down to Victoria the home of the curlies in Australia to take out DCC & Best of breed with Adsdoe Bosun (a duck shooters dog of excellence ) and BCC and runner-up BOB with Adsdoe Blondie. Both these dogs were bred by me.
We, Nook, Vicki and my-self also did obedience and retrieving trials with our curlies and did quite well.
I switched to Hungarian Vizslas in 1996 when grooming the curlies became to much for my arthretic hands.
After purchasing my first vizsla who was affectionately known as " MEG" ( Ch. Hubertus Nice & Easy ) I was smitten with the breed.
This sums up the breed NICE & EASY
Afer showing two Vizslas to their GRAND Championship Titles I then decided to look outside our country for new blood lines.
In 2006 I imported semen from America from the outstanding stud dog Biss Bis Int'l Am and Jap. Ch Vasara's One For The Kipper JH (USA) (see
Vasara's
website)
I am now breeding Shaunuff Vizslas and they are already making their mark in the ring.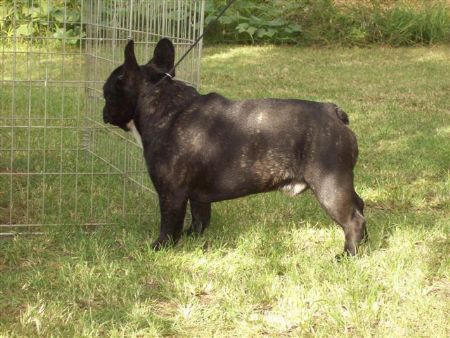 WITH A FRENCHIE IN YOUR LIFE YOU CAN ALWAYS FIND SOMETHING TO SMILE ABOUT
THEY ARE TRUELY THE CLOWNS OF THE DOG WORLD
I went into frenchies 13yrs ago. They were to be my old age dogs when I could no longer run with my vizslas
I purchased my first french bulldog from the late Carlene Naughton, Gr.Ch. Hanahaus Jigsaw Jack (Rueben) or piglet to his friends.
His sire is Aust Ch Sha-Fri-Sa's The Viking - Hanahaus (imp Norway). His Dam is, Hanahaus Here s Hilair. "Hilair's "Sire is Aust Ch Guy - Laroche De La Parure(imp Netherland)
***Ruebens semen is available to approved bitches ***
I have had great sucess with my frenchies, having I believe the youngest Grand Champion ( at 2 yrs and 2mths) Grand Ch Swifde La Alyssa "Milly".
Milly is a Best in Show winner with numerous Runner -Up in Show and Best in Group wins. Uncountable RU in Group, in Show and In Group awards.
Millys son Shaunuff Brut (from the French Champange litter) owned by Kim Morrow followed in his mums footsteps taking out Best in Show all breeds.
My life would not be so full and rich without these wonderfull loyal and entertaining frog dogs